As from Monday all the face to face NA meetings in Bali have ceased to happen and all NA recovery is happening via Zoom.

We have a list of OCM's willing to help and provide support to anyone who is struggling or who is new to the fellowship or the island.

This list is FAR FROM COMPLETE and knowing the members in Bali and their love of service, there will be many more capable and willing to help. If that is YOU then please just add you name and number to our FaceBook page.


It is also politely requested that this post is not reshared outside of the fellowship. Thank you, over and out.
NA Bali Facebook group
Weekly NA BALI ZOOM MEETINGS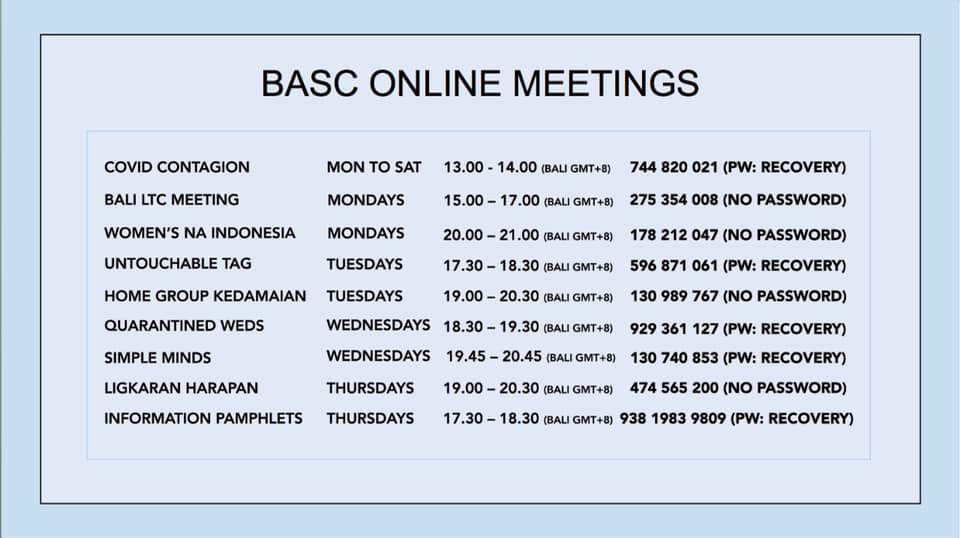 Weekly NA Jakarta Zoom meetings
Welcome to NA Bali's guide to all our meetings on the island
We have a unique fellowship in Bali with some of the best access to tropical recovery in Asia. Looking forward to seeing you at one of our meetings!
To submit new listings of meetings and meetings updates please simply email service@na-bali.org!
Suspended meetings
Unfortunatly the below meetings are suspended for the time being
MONDAY
Monday
6.30pm
THE UBUD FIRM
Cafe Wahyu, 2nd fl. Ubud Soccer Field (off Jl. Dewi Sita) UBUD
Format: Literature Sharing Contact: Aryo +62 878 6232 8989
Language: English
Google Maps
Monday
7pm
AMO SPA
AMO SPA Head Office Complex, 69 Jl.Pantai Batu Bolong, Canggu
Format: Living Clean Topic Contact:Jamillah +62 81239651342
Language: English
Google Maps
TUESDAY
Tuesday
7pm-8.30pm
AMAZING RECOVERY
RUKO BAHASA
Jalan Badak Agung no. 6c Renon – Denpasar
Format:Topik Meeting
Contact: Luis +62 81 337 443 339
Language: Indonesian
Google Maps
Tuesday
7pm
MOYDODYR
Jl. Raya Uluwatu, building on front of Pecatu Graha, Jimbaran
Format: Steps/Traditions Contact: Sergey +62 878 6183 2648
Language: Russian
Google Maps
TUESDAY
7pm
RUKO International
Just for Today Building, 80 Jl. Drupadi, Seminyak
Format: Just for Today Contact: Zoe +62 812 3618 9236
Language: English
Google Maps
WEDNESDAY
THURSDAY
FRIDAY
SATURDAY
SUNDAY
Sunday
1pm-2.30pm
Home Group: Friends of Jimmy K
RUKO BAHASA
Jalan Badak Agung no. 6c Renon – Denpasar
Contact: Nita +62 81 246 530 718
Language: Indonesian and English (Billingual)
Google Maps
Sunday
6.30pm
Sanur Power of Now
Power of Now Oasis Yoga Studio. Sanur Beach, next to Mercure Hotel
Format:Open Sharing
Contact: Danu +62 878 61188886
Language: Bilingual
Google Maps
Sunday
7pm
RUKO International
Just for today Building, Jl. Drupadi , Seminyak
Format: Step Meeting
Contact Zoe +62 812 3618 9236
Language: English
Google Maps
Other NA MEETINGS in INDONESIA
Thursday
3PM
Victoria Bakery n Cafe
Jl. Pager Gunung No2, Lebakgede, Coblong Kota Bandung, Jawa Barat 49132
in
JAVA
Contact: Christine B 0813 9468 4046 Jason K 0812 2145 6550
Language: English
Google Maps