Welcome to NA Bali's guide to all our meetings on the island
We have a unique fellowship in Bali with some of the best access to tropical recovery in Asia. Looking forward to seeing you at one of our meetings!
To submit new listings of meetings and meetings updates please simply email
service@na-bali.org!
MONDAY
TUESDAY
WEDNESDAY
THURSDAY
FRIDAY
SATURDAY
SUNDAY
Sunday
9am
Greenlot
Location: SizzleWraps Jl. By Pass Tanah Lot, Cemagi, Kec. Mengwi, Kabupaten Badung, Bali 80351
Contact: 0815-6341-9073
Language: Russian
Google Maps
Sunday
7pm
RUKO International
Just for today Building, Jl. Drupadi , Seminyak
Format: Step Meeting
Contact Zoe +62 812 3618 9236
Language: English
Google Maps
Other NA MEETINGS in INDONESIA
Thursday
3PM
Victoria Bakery n Cafe
Jl. Pager Gunung No2, Lebakgede, Coblong Kota Bandung, Jawa Barat 49132
in
JAVA
Contact: Christine B 0813 9468 4046 Jason K 0812 2145 6550
Language: English
Google Maps
NA Bali Facebook group
Additional new ZOOM meetings
Narcotics Anonymous Bali South East Asia Thursday Mens meeting 4pm Meeting ID: 854 9989 6236 Password: the secretary will let you into the zoom meeting
Weekly NA BALI ZOOM MEETINGS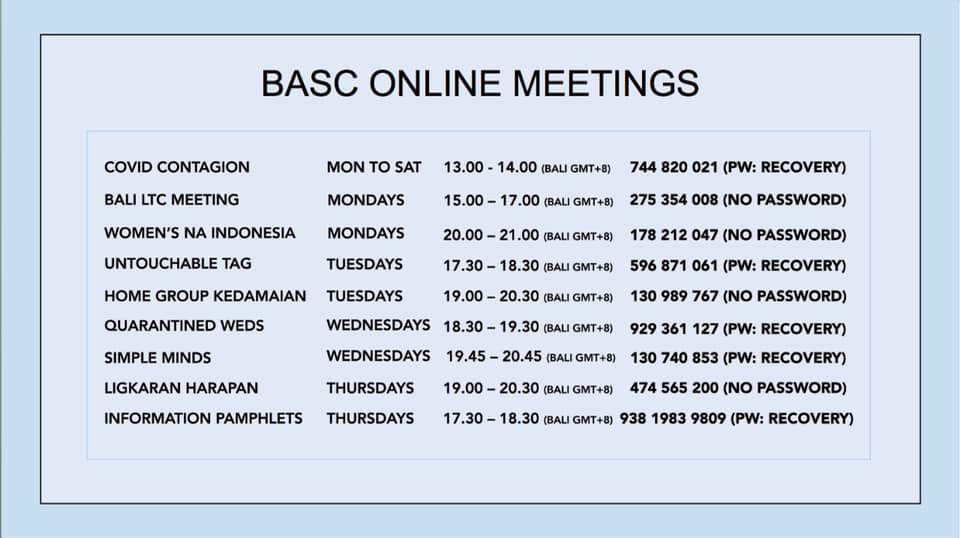 Weekly NA Jakarta Zoom meetings